Introduction
Ambition is the driving force for change and betterment around the world. How we challenge ourselves to make the world an improved one is always a difficult task. It often involves us to ask personal questions about not only why we should be the one to makes these changes but if we are doing it for the right reasons. In business, many companies are often trying to make the world a better place, but are they really? Give your students the chance to better think about ambition and whether or not it is for everyone to pursue.
Level: B2+
Running time: 90 minutes+
Teacher's notes
The following is an example lesson instruction that can be used in classes. This lesson was originally created for one-to-one business executive classes, where the student is currently knowledgeable about various aspects of business. Do note, that additional material would be needed, like that of video or audio, if needed.
Start the lesson by comparing and contrasting the quotes listed at the top of the page. Encourage students to summarise the meanings and motives of the quotations. Discusss why the person may have said it? Why it might be important today and how it can be changed to apply to today's business environment?
Then, working in pairs, students can ask each other the question turn-by-turn until they reach the end. Ensure they know all the vocab to complete this exercise. Try to estimate the words they may not know and then pre-teach where needed. Alternatively, it can be done as a group and allow each student to add their thoughts to the discussion.
Writing can be conducted as either a solo activity or in pairs. Group writing is also possible. Give students the opportunity to share their writings and provide feedback.
Language. Give students time to read through the vocab and then as students to create sentences which can be applied to business.
Article and scenario. Again, pairwork would be good here as students can try to find solutions to the task.
Presentation section. Encourage students to use the language in the lesson within their own presentation. A time of 5 minutes would be sufficient to complete this task.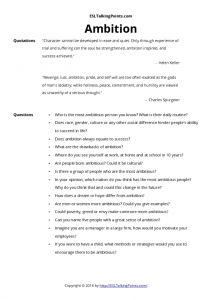 We have also included the following TED Talk should you wish to either continue the class or would like multimedia with the plan above.